Dust-Proof & Jet Water Protected IP65
The housing and keypad are specially sealed against water and dust.
Robust
The sensitive measuring elements are protected by solid rubber parts.

Multifunctional Endpiece
Measure from edges or corners with the auto detect endpiece.

Leica DISTOTM DXT – Tough Enough!

Many manufacturers talk about robustness, only few go to such lengths as Leica Geosystems: The Leica DISTO™ DXT is the only laser distance meter which is protected against jet water, completely sealed against dust (IP65 Certified) and dropped from a height up to 2m to demonstrate its robustness.

With its sealed and flat keypad, the device can be easily cleaned by holding it under running water. On the inside, it is strengthened with special fibreglass-reinforced plastic bracing. Thick rubber housing on the outside protects the module against possible damage in case it is dropped. These features make the Leica DISTO™ DXT the ideal measuring instrument for daily use on construction sites.

Another key feature is the proven multi-functional end piece with automatic position detection. Irrespective of whether measuring is carried out with the end piece in or out, the correct distance is automatically detected and displayed, avoiding tiresome measuring errors.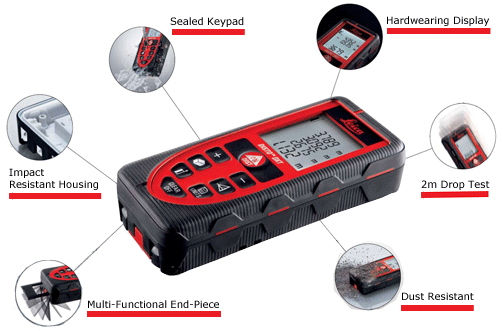 The Leica DISTO™ DXT has a number of other useful functions, such as continuous measuring with display of minimum and maximum, as well as fast area and volume calculators with additional information for wall and floor area or perimeter. Keys for subtraction and addition, as well as a Pythagoras calculation for indirect measuring are all there too. A memory for the last ten measurements completes the functionality of the device, allowing you to take several measurements before entering them into your plan.

It goes without saying, that distances can be measured precisely to an accuracy of 1.5mm with the Leica DISTO™ DXT; true to the Leica Geosystems standard, "when it has to be right".
Functions:


Interior
Exterior

Functions

D2

D210

DXT

X310

D3aBT

D5

D510

D810
Touch

Distance Measurement
up to 60m
up to 80m
up to 70m
up to 120m
up to 100m
up to 200m
Min/Max Measurement
•
•
•
•
•
•
•

•

Area Measurement
•
•
•
•
•
•

•

•

Volume Measurement
•
•
•
•
•
•

•

•

Trangle Function
•
•
•

•

•

Room Angle Function
•
•
•

•

•

Painter Function
•
•
•
•
•

•

•

Trapezium Measurement
•
•

•

Pythagoras Functions
•
•
•
•
•
•

•

•

Tilt Measurement
360º
±45º
±45º
360º

360º

Smart Horizontal Mode
•
•
•

•

•

Double Tilt Measurement

•

•

Height Tracking
•

•

•

Height Profile Measurement

•

•

Stake Out Function
a/a
a/a
a/a
a/b
a/b
a/b

a/b

a/b

Subtraction / Addition
•
•
•
•
•
•
+/-/x/•/•

+/-/x/•/•

Digital Viewfinder
•
•

•

Timer
•
•
•
•
•

•

Multifunctional Endpiece
manual
auto detect
auto detect
auto detect
auto detect
auto detect
auto detect

auto detect

Bluetooth
(Class 2)
•

•

Bluetooth
(smart)
•
•
Camera Function
•
Measure with the Picture
•
Touch Screen

•
Personalised Favourites

•
•
Compass
•
Technical Data
D2
X210
DXT
X310
D3aBT
D5
D510

D810

Typical measuring accuracy
± 1.5 mm
± 1.0 mm
± 1.5 mm
± 1.0 mm
± 1.0 mm
± 1.0 mm
± 1.0 mm

± 1.0
mm

Range
up to 60m
up to 80m
up to 70m
up to 80m
up to 100m
up to 200m
up to 200m

up to 200m

Measuring units
mm, m, ft, in
mm, m, ft, in, yd
Power Range Technology™
•
•
•
•
•

•

Distance in m
Ø of the laser dot in mm
10, 50, 100 m
6, 30, 60 mm
10, 50, 100 m
6, 30, 60 mm
Tilt sensor
Measuring range
Accuracy to the laser beam
Accuracy to the housing
360°
± 0.2°
± 0.2°
± 45°
± 0.3°
± 0.3°
± 45°
± 0.3°
± 0.3°
360°
± 0.2°
± 0.2°

360°
± 0.1°
± 0.1°

Units in the tilt sensor
0.0°, 0.0%
0.0°, 0.00%
mm/m, in/ft
4-fold digital viewfinder
•
•

•

Store constant values
1
1
1

1

Memory recall
10
10
10
20
20
30
30

30

Time delay release (timer)
•
•
•
•
•

•

Display illumination
•
•
•
•
•
•
•

•

Free software
•
•

•

Data interface
Bluetooth
(Class 2)


Bluetooth
(smart)


Bluetooth
(Class 2)


Measurements
per set of batteries
up to
5,000
up to
5,000
up to
5,000
up to
5,000
up to
5,000
up to
5,000
up to
5,000

up to
4,000

Multifunctional end-piece
manual
auto detect
auto detect
auto detect
auto detect
auto detect
auto detect

auto detect

Tripod thread
•
•
•
•

•

Batteries
AAA 2 x 1.5V
AA 2x1.5V
Li-ion Rechargeable
Protection class
IP54
IP54
IP65
IP65
IP54
IP54
IP65

IP54

Dimensions
111 × 42
× 23 mm
114 × 50
× 27 mm
122 × 55
× 28 mm
122 × 55
× 31 mm
127 × 49 × 27 mm
143 × 55 × 30 mm
143 × 58 × 29 mm

164 × 61 × 31 mm

Weigh with batteries
90g
126g
159g
155g
150g
195g
198g

238g

your shipment will include:
1 no. Leica DISTO DXT (In Stock)
1 no. Protective Holster
1 no. Wrist Strap
2 no. AAA Batteries
1 no. Instruction Sheet
1 no. 36 Month Warranty
1 no. 30 Day Money Back Guarantee
1 no. FREE Comprehensive Leica Dealer Technical Advice & Support
1 no: FREE Next Working Day Delivery