Protimeter Hygrotrac Application Note
Two Prestigious Hotels Prevent Revenue Loss and Physical Damage Using GE Sensing's HygroTrac
HygroTrac Sensors Installed in Enclosed Spaces Successfully Monitor Rises in Moisture and Alert Maintenance Personnel of Potential Health Risks and Property Damage.
A prestigious hotel group in Stockholm, Sweden was planning to renovate two of their hotels in the spring. Both hotels had been experiencing small leaks in the cistern plumbing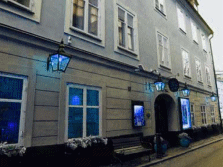 that is concealed behind paneling. Over time, the leaks had increased the humidity level in the cistern enclosures, resulting in mold growth, odors and physical deterioration. Dampness problems have affected 40 of the 540 rooms. These rooms have been taken out of service for extensive refurbishment that has caused a loss in revenue.
The hotel group selected GE Sensing's HygroTrac to continually monitor the humidity levels in 175 rooms. The wireless sensors allowed for quick and easy installation - a key project requirement. The sensors measure and transmit data every few minutes to a central location via the Internet. When humidity levels exceed the programmed threshold, the HygroTrac alerts the maintenance crew of potential moisture-related problems at the location, preventing property damage and mold growth that could cause potential health risks to guests and staff.
The Old Way and the GE Way
Small wireless HygroTrac sensors are installed in the cistern enclosures. Each sensor measures and logs relative humidity, temperature and moisture. The measurements are transmitted to the data acquisition gateway every few minutes, which is connected to a dedicated and secure web server via Ethernet or phone line. Maintenance personnel can easily access data anytime via a secure website using a PC, eliminating the need to physically inspect each enclosure.
A humidity threshold is set for every sensor. If a measurement exceeds the threshold, an e-mail and/or SMS text message is sent to a designated individual before any physical damage occurs. The early warning alarm enables the maintenance crew to fix leaks immediately before physical damage occurs and, consequently, to keep the rooms in service.
Revolutionary Monitoring
HygroTrac expands the traditional handheld range of moisture meters into a new era of wireless web-based real-time monitoring, revolutionizing the way you do business. HygroTrac is a simple and cost-effective system for monitoring environmental conditions remotely in buildings.