The new Leica DISTO™ D110 is the first laser distance meter with Bluetooth® Smart that fits in your pocket. Its small ergonomic design, smart pocket clip and simple functions make it the perfect tool for anyone who wants to take effortless measurements.

Whether you need a quick material estimation or you are working on a home improvement project, the Leica DISTO™ D110 with integrated Bluetooth® Smart and the free Leica DISTO™ sketch app offers you endless possibilities to create sketches, generate floor plans, document your measurements with pictures using a smartphone or a tablet.

New handy shape and unmatched ease of use


Extended functionality with built-in Bluetooth® Smart and Leica DISTO™ sketch app


Ideal for quick distance and area measurements


Removable pocket clip for easy carrying


Leica Geosystems technology, quality and precision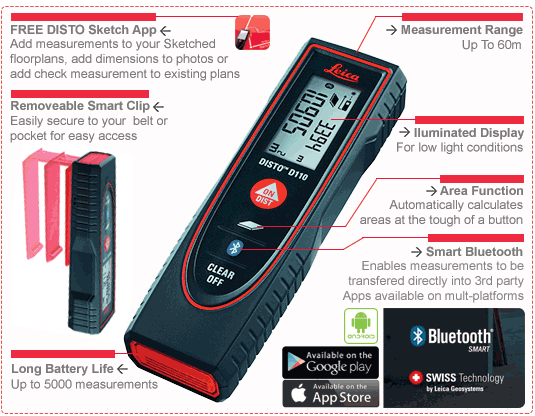 The free Leica DISTO™ sketch app connects your smartphone or tablet to your D110 allowing you to capture measurements and create sketches, generate floor plans or add dimensions to photos.
Bluetooth Smart also allows you to pair your device with other 3rd party apps such as Orthograph & Redstick to create proffesional plans on site.
The pocket clip is a smart accessory that attaches easily and allows you to simply clip the device to your pocket, trousers, shirt or jacket or wherever it's convenient for you — meaning your Disto is always instantly at hand.
Every D110 comes with a calibration certificate and as it a ISO-certified Leica DISTO™ you can be sure, that accuracy and range stated on the package can be achieved on a construction site unlike other manufacture's.
Interior
Exterior
Functions
D110
D2
D210
X310
D3aBT
D410
D510
D810
S910
Distance Measurement
up to 60m
up to 60m
up to
80m
up to 120m
up to
100m
up to 150m
up to 200m
up to 200m
up to 300m
Min/Max Measurement
•
•
•
•
•
•
•
•
Area Measurement
•
•
•
•
•
•

•

•

•
Volume Measurement
•
•
•
•
•

•

•

•
Triangle Function
•
•

•

•

•
Room Angle Function
•
•

•

•

•
Painter Function
•
•
•
•

•

•

•
Trapezium Measurement
•

•

•
Pythagoras Functions
•
•
•
•
•

•

•

•
Tilt Measurement
360º
±45º
360º

360º

360º
Smart Horizontal Mode
•
•
•

•

•

•
Sloped Object Measurement

•

•

•
Height
Tracking
•

•

•

•
Height Profile Measurement

•

•

•
Stake Out Function
a/a
a/a
a/b
a/b
a/b

a/b

a/b

a/b
Subtraction / Addition
•
•
•
•
•
+ / -
x / •/•

+ / -
x / •/•

+ / -
x / •/•
Digital Viewfinder
•
•

•

•
Timer
•
•
•
•
•

•

•
Multi-functional Endpiece
None
manual
auto
detect
auto detect
auto
detect
auto detect
auto detect

auto detect

smart clamp

Bluetooth
(Class 2)
•

Bluetooth
(smart)
•
•
•
•
Camera Function
•
•
Measure with the Picture
•
•
Touch Screen

•
•
Personalised Favourites

•
•
•
•
Compass
•
•
Remote Point to Point
•
Smart Angle Measurement
•
Smart Area Measurement
•
DXF Data Capture
•
WLAN Data Transfer
•
Technical Data
D110
D2
D210
X310
D3aBT
D410
D510
D810
S910
Typical measuring accuracy
± 1.5
mm
± 1.5
mm
± 1.0
mm
± 1.0 mm
± 1.0
mm
± 1.0 mm
± 1.0 mm

± 1.0
mm

± 1.0


mm

Range
up to 60m
up to
60m
up to
80m
up to 120m
up to
100m
up to 150m
up to 200m

up to 200m

up to 300m
Measuring units
mm, m, ft, in
mm, m, ft, in


Power Range Technology™
•
•
•
•
•
•
X-Range Technology™
•
Distance in m
Ø of the laser dot in mm
10, 50, m
6, 30, mm

10, 50, m
6, 30, mm


10, 50, 100 m
6, 30, 60 mm

Tilt sensor
Measuring range
Accuracy to the laser beam
Accuracy to the housing
360°
± 0.2°
± 0.2°
± 45°
± 0.3°
± 0.3°
360°
± 0.2°
± 0.2°
360°
± 0.1°


± 0.1°

360°

± 0.1°


± 0.1°

Units in the tilt sensor
0.0°, 0.0%
0.0°, 0.0%
0.0°, 0.00%
mm/m, in/ft
0.0°, 0.00%
mm/m, in/ft
0.0°, 0.00%
mm/m, in/ft
4-fold digital viewfinder
•
•

•

•
Store constant values
1
1
1

1

1
Memory recall
0
10
10
20
20
30
30

30

50
Memory for pictures
80
80
CAD data format
DXF
Memory for CAD files
20 files of 30 points
Smart Base measuring range

360° -
-40° to
80°
Distance in m / Typical tolerance of P2P function

2,5,10m
2,5,10 mm
Time delay release (timer)
•
•
•
•
•

•

•
Display illumination
•
•
•
•
•
•
•

•

•
Free software
Windows / iOS / Android
Windows / Android
Windows / iOS / Android

Windows / iOS / Android

Windows / iOS / Android
Data interface

Bluetooth
(smart)


Bluetooth


Bluetooth
(smart)


Bluetooth
(smart)


Bluetooth
(smart)


Measurements
per set of batteries
up to
5,000
up to
5,000
up to
5,000
up to
5,000
up to
5,000
up to
5,000
up to
5,000

up to
4,000

up to
4,000
Multifunctional end-piece
None
manual
auto
detect
auto detect
auto
detect
auto detect
auto detect

auto detect

smart base

Tripod thread
•
•
•
•

•

•
Batteries
AAA 2 x 1.5V
AAA 2 x 1.5V
AAA 2 x 1.5V
AAA 2 x 1.5V
AAA 2 x 1.5V
AA 2x1.5V
AA 2x1.5V
Li-ion


Recharge

Li-ion


Recharge

Protection class
IP54
IP54
IP54
IP65
IP54
IP65
IP65

IP54

IP54
Dimensions

120
× 37
× 23 mm

111 × 43
× 23 mm
114 × 50
× 27 mm
122×55
×31mm
127×49× 27mm
143× 55×30 mm
143×58× 29mm

164×61 × 31mm

164×61× 32mm
Weigh with
batteries
92g
90g
126g
155g
150g
195g
198g

238g

290g
your shipment will include:
1 no. Leica DISTO 110 (IN STOCK)
1 no. Smart Pocket Clip
1 no. Protective Holster
2 no. AAA Batteries
1 no. Instructions
1 no. 36 Month Warranty
1 no. 30 Day Money Back Guarantee
1 no. FREE Comprehensive Leica Dealer Technical Advice & Support
1 no. FREE Next Working Day Delivery

Save
Save