The Rotosure Classique Professional road measuring wheel is the discerning choice of the professional surveyor for road measurement. Heavy duty construction combined with unrivalled features make this road measurer the clear choice for surveyors.

The Rotosure Classique Professional boasts a handy trigger brake and trigger reset, which means the operator does not have to bend down to zero or brake the counter.

All Rotosure measuring wheels are backed by a 2 year manufacturers warranty

Unlike some other brands, the Rotosure Classique Professional road measuring wheel has a protected drive linking the measuring wheel and the counter, resulting in a robust durable heavy duty unit. This is an ideal replacement for the Trumeter range of measuring wheels.




Features:


Folds in half

Now with bag included


Trigger brake button

Trigger reset button


Push button release clip

Push button zero reset

Kick down side stand

Convenient carry handle

Wrist strap

Debris removing scraper

Follows fine edges

Runs in straight line

Balanced in line movement

Better traction

Wheels run on sealed roller bearings

Heavy duty


Specifications:


Measuring distance 10,000M

Increments 0.1M

Wheel circumference 1000mm

Wheel diameter 0.32M

Weight 2.36KG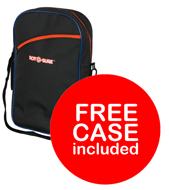 Uses:

Road marking, construction, paving, fencing, pool construction, garden layouts, field layouts, factory layouts, property assesments. The Rotosure Classique Professional road measuring wheel can be used on most surfaces smooth and uneven over long and short distances. An ideal upgrade fom the Trumeter 5000 Road Measurer.