The Leica Lino L2P5 combines all the advantages of Leica Lino dot and line lasers. The five laser dots are precisely aligned at right angles to one another. The laser cross lines make alignment so simple.

Featured with


Self-levelling

360° Horizontal line close to floor level

180° Vertical line

Rechargeable battery pack for extended operationg

IP65 - Dust and water tight for external use.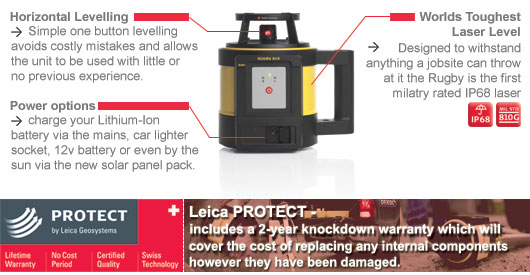 Continuous and exact 360° laser lines
The Leica Lino L360 projects a laser line all round with millimetre accuracy. Reference points and lines can thus be quickly transferred from one wall to another without having to rotate the instrument. That is a crucial advantage when creating height reference points. Furthermore, the horizontal laser line can be projected very closely to the ground. This particularly simplifies laying floor coverings and controlling heights. Moreover, the Leica Lino L360 provides an additional 180° vertical laser line for further possible uses.

Self-levelling with simple user interface
The Leica Lino L360 can be set up easily and quickly. The user interface with only two keys is self-explanatory. Thanks to the self-levelling, minor inclinations are automatically compensated for. Where greater tilting occurs, the laser lines blink to indicate that the self-levelling function is no longer active. The self-levelling function can also be switched off manually using the lock function. On the one hand this serves as transport protection and on the other allows the laser lines to be projected in any position.

Rugged line laser, long battery life, matched accessories
The Leica Lino L360 is a rugged instrument with protection class IP65, i.e. it is dust proof and protected against hose water. Furthermore, thanks to the rechargeable battery pack, its lengthy operating time of up to 20 hours is also a convincing argument. A multi-functional adapter which can be used either as a small tripod or magnetic wall holder is included in the scope of supply.




Leica Rugby 800 Series
Technical Data

Rugby 810

Rugby 820
Rugby 830
Rugby 840
Functionality
Self-levelling horizontal, single manual slope (with slope adaptor)
self-levelling horizontal & manual slope in duel axis
Self-levelling horizontal & manual slope in duel axis
Self-levelling horizontal & vertical, 90° and manual slope in duel axis
Smart Targeting
No
No
Smart Lock
No
No
Maximum Temperature Stability
-
-
-
Operational Range (diameter)

800m (2600 ft)

1,350m (4,300 ft)
700m (2,300ft)
Self Levelling Accuracy
± 1.5mm at 30m (± 1/16" at 100 ft)
Self Levelling Range
± 6°
Rotation Speed
10 rps
0, 2, 5, 10 rps
Scanning Modes
No
No
No
Yes
Laser Diode Type Class
635 nm (visible) / Class 2
Dimensions
235 x 238 x 190 mm (9.2 x 9.4 x 7.5 in)
Weight With Batteries
3.0 kg (6.6 lbs)
Batteries
Li-Ion Pack or Four D-Cells

Battery Life


40 hours - Li-Ion / 60 hours - D Cell
Extended Operation Temperature
-20° to +50°C (-40° to +122°F)
-20° to +60°C (-40° to +142°F)
-20° to +50°C (-40° to +122°F)
Storage Temperature
-40° to +70°C (-40° to +122°F)
Environmental Standard
IP68 (Military Grade Submersion & Dust Tight)
RC400 Remote

Rugby 830

Rugby 830

Rugby 830

Rugby 840

Compatible
No
No
No
Operating Range
N/A
N/A
N/A
Up To 200m (650ft)
Environmental Standard
N/A
N/A
N/A
IP67 (Dust & Water-Tight)