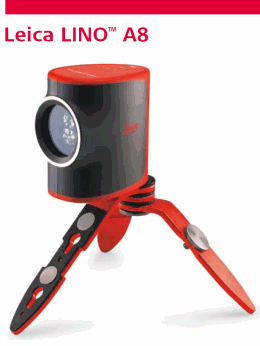 Leica LINO L2 - the perfect alignment tool
Leica Geosystems has been very successfully in the laser measuring sector for some time with the laser distance meter Leica DISTO™. They have now used their extensive experience to develop a line-laser that sets new standards: Leica LINO L2. The usage of excellent optical components to proven Leica Geosystems quality standards ensures precise laser lines that are extraordinarily easy to see. Its strengths: precise and perfectly visible laser lines.
Excellent visibility and precision
The quality of the optics in the device is important for the lines to be highly visible and sharp. The Leica LINO L2 is equipped with proven Power Range Technology by Leica Geosystems to guarantee excellent visibility - even in a bright environment the lines are easy to see. And through the extremely large aperture angle of the optics the device projects amazingly long lines on to the wall, making it ideal for transferring reference points on to nearby walls or ceilings. With an accuracy of +/- 1mm in 5m the Leica LINO L2 is one of the most precise devices in its class.
Simple, quick and self-levelling
Even someone who has never worked with a level before can project exact horizontal and vertical lines on to a wall in next to no time. With the new Leica LINO L2 these everyday alignment and positioning tasks are completed extremely quickly and precisely. No painstaking levelling of the device is required - it is self-levelling! And if the inclination of the supporting surface is too large then the Leica LINO L2 detects this for itself and does not project the line, thus saving you from error. The self-levelling feature can be switched off by locking the device. This not only protects the Leica LINO L2 while it is being moved; it is also useful when projecting from unusual positions. Using the Leica LINO L2 to project over long distances is child's play thanks to the pulse function with its energy saving mode and detector (accessory).
Clever accessories
With the device are included a magnetic multifunctional adapter, which allows the Leica LINO L2 to be set up in a wide range of situations and a target plate - a very useful tool when a projection surface is required in a unenclosed space. The ball and socket adapter allows projections from surfaces sloping at all angles. The original Leica LINO bag provides a practical and safe way to transport the device to and from site.

Leica Geosystems - when it has to be right
With close to 200 years of pioneering solutions to measure the world, Leica Geosystems products and services are trusted by professionals worldwide to help them capture, analyze, and present spatial information. Leica Geosystems is best known for its broad array of products that capture accurately, model quickly, analyze easily, and visualize and present spatial information even in 3D. Those who use Leica products every day trust them for their dependability, the value they deliver, and the superior customer support. Based in Switzerland, Leica Geosystems is a global company with tens of thousands of customers supported by more than 2,400 employees in 21 countries and hundreds of partners located in more than 120 countries around the world.