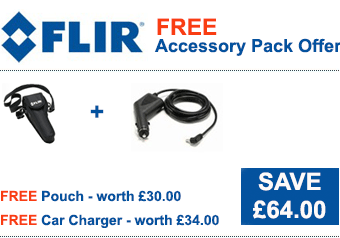 Regardless whether you are a big industrial company, an electrician, or even a consumer that wants to inspect your electrical installations or house, everyone should have access to a thermal imaging camera and price should not be an object.

The Flir i3 produces thermal images of 60x60 pixels. This image quality is excellent for first time thermal imaging camera users and the Flir i3 detects temperature differences as small as 0.15°C.

The FLIR i3 stores its images on a removable SD card in JPEG format and all temperature data is included in the thermal image.

Flir Quickreport software is included with the Flir i3 for making fast inspection reports and for analyzing and adjusting the thermal images back in the office. The Flir i3 is also compatible with the more powerful FLIR Reporter software.
The Flir i3 is extremely easy to use. Just point the camera at the object and the thermal image is shown on the screen. If you wish to capture the image simply pull the trigger and the image and data is automatically saved onto the SD card.


Features:
60x60 Resolution
Great entry level resolution which will show enough detail for general purpose maintenance.

Extremely Rugged
FLIR i-Series thermal imaging cameras withstand a 2 meter
drop. Watersplash proof with an IP43 rate.

Outstanding ease-of-use
The camera is extremely easy to understand and operate, designed for entry-level users. The camera is intuitive and comes with a full manual
Fully automatic
Produces instant, point-and-shoot JPEG infrared imagery carries all required temperature data and can be stored internally or externally, sent and analyzed.
Focus free
The fixed lens with focus free feature makes using the FLIR i3/i5/i7 a snap.
Compact and lightweight
FLIR i3/i5/i7 weighs only 365g and is easy to store in a belt pouch.
JPEG Images
Store up to 5000 images on the included 512mb miniSD card.
2.8" LCD Colour Display
Clearly see temperature readings on the Flir i3's large LCD display.
Thermal Sensitivity
Detect even the smallest of changes with the extremely accurate thermal sensitivity of <0.15°C at 25°C.
Long Battery Life
Get up to 5 hours of use from a single charge.
SD card storage
Stores images with unique ID in radiometric JPEG format on a standard miniSD card. USB file transfer to PC.
Reporting and analysis software included
FLIR QuickReport software is included and the camera is also compatible with the more powerful FLIR Reporter.
Outstanding measurement/accuracy
High accuracy of ±2°C or ±2% produces sensitive infrared images for general purpose maintenance analysis. Measures temperatures up to +250°C and detects temperature differences as small as 0.15° C. Measurement functions; spotmeter, correction for emissivity and reflected temperature, emissivity table.
Not magic... impressive technology
Infrared radiation (IR) is emitted by every object above a temperature of -273°C. The human eye cannot detect infrared radiation, but an infrared camera can. It can take pictures of objects to show the amount of heat they are emitting. Such pictures consist of a map of colours that show surface temperatures of the object. An infrared camera is an invaluable diagnostic tool in a variety of industries, as it can detect abnormally hot or cold areas or components. In other words, you can detect problems that are not normally visible with the naked eye.


The benefits of infrared
An infrared camera is a powerful maintenance tool, as in many instances equipment failure is preceded by a period of increasing heat. An infrared camera is also an excellent building inspection instrument, it quickly scans and identifies problem areas that can't be seen by the naked eye. It is also used for repair verification and insurance purposes. An infrared camera gives you the following benefits:
Detect hidden problems, make quick damage assessments and perform preventive inspections


Survey buildings to find moisture and leaks


Identify energy losses and poor insulation


Spot electrical faults before it is too late


Produce instant infrared images of your findings Create reports, analyse and document your findings with the easy-to-use software

Flexible recording and PC connectivity:


Single image JPEG storage to SD Card


USB file transfer to PC


Compatible with FLIR Reporter 8 and FLIR QuickReport software
Measurement:


Full temperature measurement ranges up to 250 °C as standard


Standard range of measurement tools:
– Spotmeter
– correction for emissivity and reflected temp.
– emissivity table

Technical Specifications:
Imaging and optical data
Field of view (FOV)
12.5° × 12.5°
Thermal sensitivity/NETD
< 0.15°C
Image frequency
9 Hz
Focus / min focus distance
Focus free / from 0.6 m (2 ft.)
Detector data
Detector type
Focal plane array (FPA), uncooled microbolometer
Spectral range
7.5–13 μm
IR resolution
60 × 60 pixels
Image presentation
Display
2.8 in. color LCD
Image Adjustment
Automatic adjust/lock image
Measurement
Object temperature range
-20°C to +250°C
Accuracy
±2°C or ±2% of reading

Measurement functions

Spotmeter, correction for emissivity and reflected temp,emissivity table

Set-up

Menu commands
Palettes (black and white, iron and rainbow), C/F, language,
date and time format
Image storage
Image storage type
miniSD Card
File formats
Standard JPEG, 14-bit measurement data included
Compatible with FLIR software
FLIR Reporter 8 and FLIR QuickReport
Data communication
Interfaces
Interfaces USB Mini-B, Data transfer to and from PC
Power system
Battery type
Rechargeable Li Ion battery
Battery operating time
Approx. 5 hours at +25°C ambient temp. and typical use
Charging system
Battery is charged inside the camera.
Power management
Automatic shut-down
AC operation AC adapter
90–260 VAC input. 5 V output to camera
Environmental data
Operating temperature range
0°C to +50°C
Storage temperature range
-40°C to +70°C
Humidity (operating and storage)
IEC 60068-2-30/24 h 95% relative humidity
Encapsulation Camera housing and lens
IP 43 (IEC 60529)
Bump / Vibration
25 g (IEC 60068-2-29) / 2 g (IEC 60068-2-6)
Drop Test
2 Meters
Physical characteristics
Weight
365 g
Size, L x W x H
223 mm x 79 mm x 83 mm
your shipment will include:


1 no. FLIR i3 Infrared Camera


1 no. Protective Carry Case


1 no. miniSD Card, 512 MB


1 no. USB cable


1 no. Battery


1 no. Wrist Strap


1 no. FLIR Tools Software


1 no.Getting Started Guide and User´s manual CD in 21 languages


1 no.Power supply/charger with EU, UK, US and australian plugs


1 no. 24 Month Warranty


1 no. 30 Day Money Back Guarantee


1 no. Comprehensive FLIR Dealer Technical Advice & Support


1 no. FREE Pouch - Worth £30.00


1 no. FREE Car Charger - Worth £34.00